This year, the IPT will be composed of two separate events, the usual tournament you are all familiar with, and the IPT Conference. The two formats are quite independent and students can participate in either of them or even both! The purpose of this page is to explain the rules of the Virtual Tournament.
Links to Physics Fights
Welcome room + Jury Briefing
Jury Briefing will start 30 minutes before the Physics Fight!
(China 19:30, India 17:00, Pakistan 16:30, Ukraine+Russia 14:30, FR+DE+SL 13:30, Colombia+US 6:30)
Fight Rooms
Team members and Jury should connect to one of 5 separate rooms according to Team Allocation and Jury Schedule.
Room 1: (chairman – Evgenii Glushkov)
Room 2: (chairman – Sebastian Fava)
Room 3: (chairman – Nikolay Lysenko)
Room 4: (chairman – David Collomb)
Room 5: (chairman – Anastasiia Vasylchenkova)
The Virtual Tournament
The virtual tournament will follow the general rules of the tournament you are familiar with, but with some important modifications in order to make it compatible with the new online format.
Each team will be given 5 permanent rejections, which have to be announced before the first physics fight. To balance this, each team will only have 2 tactical rejections per physics fight, which are used as normal.
Additionally, the role of the Reviewer is removed for the physics fights, meaning each physics fight is between 2 teams only, with Reporter and Opponent roles as usual.
The Final will be with 3 teams and run with the standard IPT format.
Registration
In order to register for the online tournament, the normal procedure applies. Get in contact with your IOC representative or, if you don't have one, apply as a single team by getting in touch directly with the Execom through this form.
Exceptionally, all students who obtained a master degree (or equivalent) in April 2020 or later will still be allowed to participate.
Registered teams (alphabetically)
China – Nankai University
Colombia – winners of the Colombian national selection:

Universidad Industrial de Santander

France – winners of the French national selection: ENSTA Paris
Germany – Winners of the German national selection: Ludwig-Maximilians-Universität München
India – winners of the Indian national selection: IISER Bhopal
Pakistan – SNS and NUST Islamabad
Russia – winners of the Russian national selection: Moscow Institute of Physics and Technology
Slovenia – University of Ljubljana
Ukraine – Winners of the Ukranian national selection: University of Kharkiv
USA – winners of the American national selection: Rice University
The timetable of one round in PF
For this edition of the tournament, we will have physics fights involving two teams instead of the usual three. There will be only the role of reporter and opponent. Here is the time schedule (timing) of a physics fight.
Each team in every Physics Fight will be given 1-minute timeout that can be used anytime, except stage performances (presentation & speech).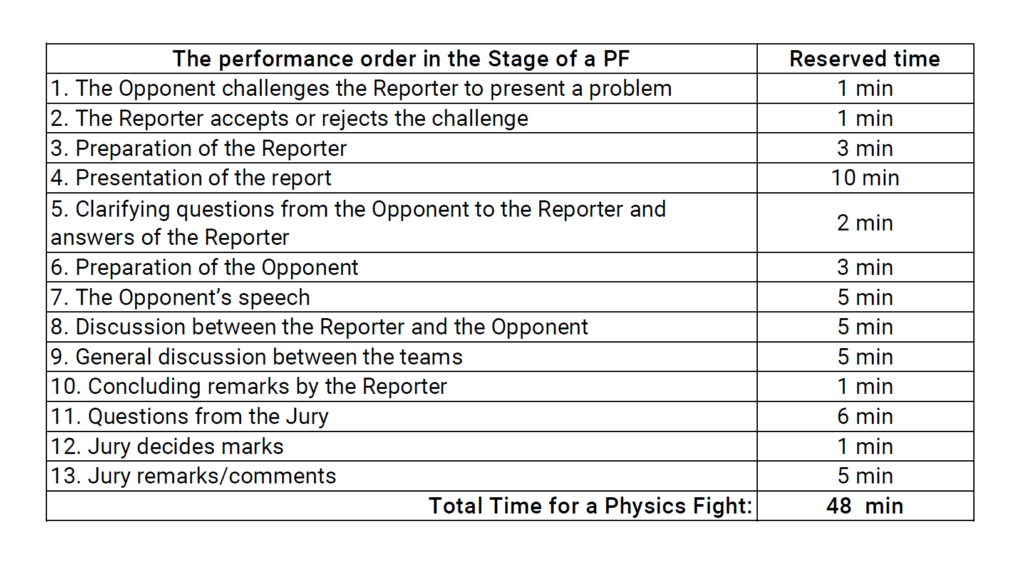 You can visit the Schedule page here.